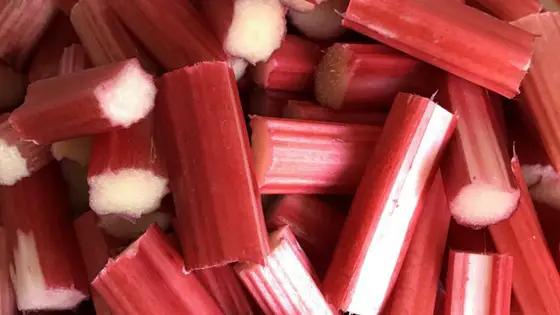 Maybe it's the icy cold weather or the trip to the supermarket but my mind is on the warming spicy kick of ginger, rhubarb and orange jam. This recipe combines the warmth of spices with the fruit making it an ideal winter jam for your toast.
I like to make jams from the fruit that is in season and if I can from my own allotment. However, I never quite know what to do with rhubarb, whether to make crumbles or jams etc, More often than not I end up freezing it then giving it away as my rhubarb plant produces lots and since I moved it I have two and I haven't the heart to dig it up. Sometimes I make a simple rhubarb jam but sometimes I want something a bit more warming.
As I write this we are coming into rhubarb season and the early forced rhubarb is already in the shops. Mine produces rhubarb much later in the season than many varieties, so I have to either wait or buy it in if I want to make any jam.  The tender forced rhubarb is lovely to use. Don't use thick and stringy ones though.
Pectin Levels of Rhubarb: Low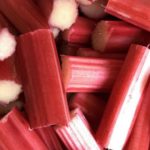 Make This Zingy Ginger, Rhubarb and Orange Jam
A great late winter early spring jam jam
Ingredients
400

g

diced rhubarb

500

g

white Jam sugar

contains added pectin

3

tablespoons

of minced  up fresh ginger root

2

tablespoons

lemon juice

1/2

juice large orange & Zest

50

ml

water room temperature

2

380ml

jam jars or equivalent in different sizes

approximate only
Instructions
Wash and sterilize your jam jars and lids ready to use.

Wash clean and cut your rhubarb into cubes about 2.5cm (1 inch)

Wash your orange and cut it in half. Juice half the orange and pop in a container

Put your rhubarb, minced ginger,  orange juice and water into a pan bring to the boil then reduce the heat and cook until the rhubarb is nearly soft but not too soft. Stir continually especially if you have opted for a water-free version.

Add your sugar and lemon juice and bring back to the boil for a few minutes.

Remove from heat and carefully pour into the jars and seal the lids.
Recipe Notes
Note: While the pectin levels in rhubarb are low many jam recipes do not use pectin with Rhubarb. I make my jam differently than other recipes as it suits me. I prefer to use it to give a better chance of getting a slightly firmer jam. Oranges are high in pectin so you may not need it if you want a less firm jam. In addition, most rhubarb recipes don't use water as it can water down the recipe too much. I do use a bit because when I was learning I found I burnt (and occasionally still do) the pan. Water helps protect the pan.   It's up to you, try it both ways and see which you prefer.
This recipe was inspired by this Rhubarb and Ginger Jam recipe by Can-it-Rachael