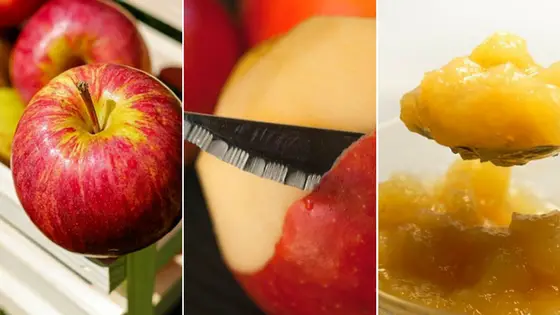 How to make apple sauce with this easy homemade apple sauce recipe. You can easily make it sweet, semi-sweet or even unsweetened. Chunky or smooth.
This apple sauce is perfect for pork, baking, and various desserts. Why not combine with ice cream or pancakes.
If you are looking for alternatives for cooking without sugar you can use apple sauce, it is now found in a lot of recipes.
How to Make Homemade Apple Sauce With This Tasty Homemade Recipe
You just can't beat your homemade apple sauce and this recipe shows you how easy it is to make.  You don't need many ingredients nor any special equipment other than the hob, spoon and a saucepan. Below is covered what apples to use, some of the different uses for your sauce and how to make it.
What Are the Best Apples for Homemade Apple Sauce?
I have to admit I have always used cooking apples in the past, however, they are quite acidic and require a lot of sugar to counter that. These days any apples are used. The best ones are the softer ones that break down during cooking really well as they make it easier.
Use the ones that are in season locally as they will be cheaper.
This year doesn't look too good for my apples as one tree doesn't look like it has many on it and one is bent over as I didn't get to prune it. So I will have to buy them in. I only have a small patch of land so only have a few apples. But there are lots to choose from in the shop. Braeburn is good. I haven't tried them but am thinking Pink Lady (unfortunately not local to me as it comes from Australia sigh) might also work well although they are on the more expensive side.
You can have a mixture of apples to make changes to the taste. Some sharper and some softer would work well. However, I think it depends on your personal taste buds as to the combination of apples used.
Tip: Keep a track on what apples you used and how many, the weight etc so if you like them you can make it again and if not you can avoid that combination.
Jonagold Apples

Royal Gala (very sweet)

Cox
Golden delicious (sweet, better for firmer chunky sauces)
Braeburn (sweet & tart)
Granny Smiths (tart-tasting apple)
Bramley (the traditional choice)
St Edmunds Pippin (sweet with a nutty flavour)
Jonagold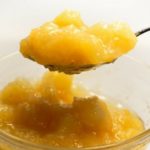 Easy Homemade Apple Sauce Recipe
Ingredients
6

apples

270

ml

Water

75

g

Granulated Sugar

1/2

tsp

Ground Cinnamon 

optional
Instructions
Heat your hob to a medium heat

Wash, peel, core, remove the seeds and cut up your apples into roughly even-sized small cubes of about 1.5 inches (4 cm)

Put into your saucepan with the water and the sugar

Place your lid on your saucepan and put it onto the hob

Bring to a gentle simmer

Remember to stir your apples occasionally while they are cooking to cook evening and mix in the sugar and prevent sticking to the pan

Allow cooking until the apples are broken down and soft.

Five minutes before the end add the ground cinnamon and stir into the sauce
Recipe Notes
Tip: Some people prefer to leave the skins of the apples on to cook their sauce. I prefer the traditional way as I don't like the combination of skin and sauce together. I feel it detracts from it but you can experiment and see what is best for you.
Confession: I am a bit of a cinnamon fiend so will double the quantity of cinnamon used (or even more sometimes). I'd recommend you don't do that until you have created the sauce at least once and then tweak it to your own preferences. More or less spice, or more or less sweet.

Pork Chops And Applesauce: 25 Delicious Dishes on Amazon
Why Not Make Your Sauce for a Baby?
If you are making your apple sauce for a baby you might want to limit the extras and try to keep it as natural as possible. although we are genetically designed to have a sweet tooth (unfortunately) a baby has yet to be inundated with all the sugar stuffed into food. And as fruit especially reduced down has quite a high content you might like to remove it from the recipe and just use an apple.
Just use the recipe above but remove the sugar, cinnamon and most of the water. It is vital that you peel and core your apples for your infant.
If you are extra conscious of your babies health try to avoid any apples that have been sprayed if possible and always wash them either way.
What if you Prefer to Make your Apple Sauce Without Sugar?
I have recently removed sugar from my diet – yipes, no mean feat for a sugar junkie. But it has caused me a few problems with my preserves. What to do if you don't have sugar. I have written another article on this because my sister was looking when she first became diabetic on sugar alternatives. Although these days she has had to removed jams, sauces etc almost completely from her diet.
Reduced fruit is high in sugar anyway and as you stop eating it you do become used to it – you do honestly.
If however, you want your Apple Sauce Unsweetened rather than using any sugar or sweetener alternative you can simply leave out the sugar in the recipe.
How Long Can You Keep Apple Sauce?
You can keep opened jars of apple sauce in the fridge for up to two weeks. If you need to keep it longer you can freeze it. When you are preserving applesauce in jars, properly sealed jars of sauce can last up to two years.