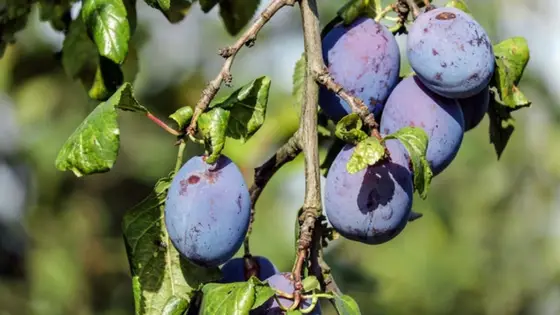 Why not enjoy this tasty and easy to make damson jam this autumn with your toast or scones?  It's rich flavour and deep colour make it a perfect jam to enjoy in the autumn and beyond.
While the damson plum is quite sour and not much fun to eat raw it makes an excellent jam rich in flavour and a deep claret colour.  Due to its high pectin levels, it is also easy to make and to get to set.
Once you have the plum jam you can easily expand your flavours as it works well with other fruits and flavours to make lots of exciting combinations of jams including apple, gin, rum, and cinnamon.
Enjoy This Easy to Make Damson Jam This Autumn
Damsons Pectin Levels: High
Recipe Level: Easy
Do You Need to Add Pectin to Damsons?
You shouldn't need to as damsons are really high in pectin naturally this means that you can use preserving sugar without pectin rather than jam sugar.
About Damson Ripeness
How Ripe Should Your Damsons Be If Using in James & Jellies?
If you are using your damsons for preserves you might want to use slightly underripe ones. Don't worry if they are not, use up what you have. Or better still mix them and have some under and some ripe damsons. You will probably find they are all at different stages when you pick them anyway if you are growing your own, if not check them when you buy them.
Another way to test them is to raise the fruit on the branch they should come away easily, if not they are not yet ripe.
How to Check the Ripeness of Your Damsons
Damsons are ripe when if you press then they give a little and are slightly soft and not too hard. Just press them lightly to see.
Troubleshooting Any Problems with Your Jam
Is Your Jam Too Firm?
Due to damsons having a high pectin content they are easy to get to set. It is possible however that they set a bit too well. You can avoid this by increasing the amount of water or by being extra careful about the length of time you allow them to be at the set point.
If you are having real problems you can add some pectolyase as it will help to destroy the enzymes in the pectin making the jam softer. (Note: it is used in wine making).
Trouble Removing the Stones?
You can easily remove the stones from your damsons. The usual method is to cut through the fruit and remove the stones that way. However, by cooking them and then removing the stones it is much easier. You might have to do some fishing though as they will hide in the mixture!
Now I wouldn't have thought of this but someone on Money savings expert recommended using a cherry stoner – hmm intriguing. Has anyone ever tried this? If so you did you get on?


OXO Good Grips Pitter - Cherry/Olive
This one from Amazon does just that as people have bought it for just that purpose and it doesn't break the balance either which is a bonus.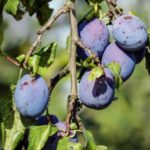 Easy Damson Plum Recipe
Remember to sterilize your jars funnel and lids. Keep the jars warm ready for jam
Ingredients
1

kg

damson plums

650

g

preserving sugar

1

lemon juice of

550

ml

water
Instructions
Sterilize your Jars and lids.   

Wash and clean your damsons. If you have picked them yourself double check of any holes or blemishes and remove the debris and stalks etc.

If you are using a knife to remove your stones remove them now if not go to the next stage.

Using your Maslin pan

if you have one or a really large saucepan place your fruit and your water into your pan.

Cook until your fruit has reduced down.

If you are removing stones after cooking now is the time to fish them out and remove them.

Add in your sugar and mix it gently until it has completely dissolved.

Now bring your jam to the boil.

Allow it to reach the set point of 105C.

Allow your jam to boil for 5 minutes.

Now check your set point.

Once the jam has reached

its set point

you can place into your sterilized jars and seal the lids.

Allow to cool and check the jars are sealed shut.